Job fair - Surat
Wednesday, 17 December 2014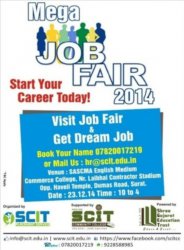 Contacts

9228588985

07820017219
Item description
JOB FAIR IS A CAMPUS TO CORPORATE SEMINAR FOR ALL OF YOU.
FREE FOR ALL EMPLOYERS, PLACEMENT, AGENCIES & SEEKERS.
A job fair is also referred commonly as a career fair or career expo. It is a fair or exposition for employers, recruiters, and schools to meet with prospective job seekers.